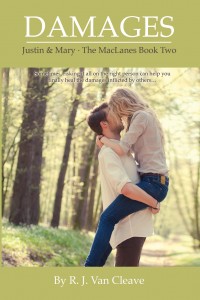 Damages is the second book in the MacLane Family series. It is the story of Justin and Mary, and can be read as part of the series, or on its own.
Justin MacLane had it all, except for good luck when it came to women. He had money, good looks, and a great, down to earth personality. He was the youngest MacLane executive at Anderson-MacLane industries, but his connections and wealth were more impressive than his work ethic. Justin was just too nice and too giving, and women used him only to get ahead. That made Justin realize that he'd rather be alone, than be a stepping stone for the next Hollywood sensation.
Mary Andrews had a hellish childhood, and only had bad luck when it came to men. The physical and sexual abuse she suffered as a child, eventually led Mary to the biggest mistake of her life – Carson Matthews. After years of living with an abusive husband, she finally got out. Getting out, however, was the easy part. That made Mary realize she would rather be lonely, than ever trust her heart, or her body, to another man.
 When Justin crosses paths with Mary, it takes only one look from her to know she is different from the others. Her razor sharp tongue and conservative dress protects her from the world, and Justin realizes Mary isn't going down without a fight. Mary is totally and utterly unimpressed with Justin, his fat bank account, or his flashy Porsche. When his gentle manner stirs up feelings that she's never felt before, Mary realizes she's facing the biggest fight of her life. Sometimes, risking it all on the right person can help you finally heal the damages inflicted by others…
 Purchase Damages here at Amazon
Purchase Damages here at Barnes & Noble
Purchase Damages here on iTunes
Alternate formats: