You can find me on Goodreads here

, or
you can read my Smashwords interview here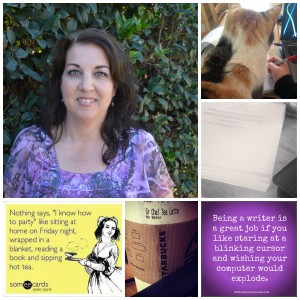 R.J. Van Cleave was born and raised in a small town just east of San Diego, California, where she still resides, today. From the time R.J. was a small child, she wanted to be a doctor or have lots of babies. Her sixth-grade teacher ignited a passion for science that carried on into high school, where she also happened to fall in love with a cute guy and American and British literature, blah blah blah blah blah.
If you've been to my bio page on other sites (Goodreads, Amazon, Smashwords) that spiel above is just another variation of the same thing. I decided it was high time to try something new. So, being that this is my website, I wanna do it my way. Here goes…
First off, no third person for this one. I want my readers to get to know who I am and what makes me, well, me.
I consider myself lucky to have been born and raised in a little town just outside of San Diego, California. For all intents and purposes, I am a native San Diegan.  I say lucky because we have THE best weather here (unless it's an El Niño year), and well, where else can you visit the desert in the morning, spend the afternoon in the mountains (Julian is a must), and finish the day off at the beach watching the sunset? Yes, all that, in ONE day.
I grew up in a working-class family of six – my dad, my mom, two brothers and one sister – all older – and my Nana (my mom's mom). We were never well off, but somehow, my parents manage to put four kids through Catholic school (on one income, mind you), and helped three of us attend private, Catholic colleges. Yeah, just in case you didn't get that, I'm also Catholic.
At the tender age of four, while walking home from preschool with my mom, I spied two paramedics at the bottom of our cul-de-sac working on a local homeless man, who was apparently suffering from alcohol withdrawals, or DTs, as my mom called it back in the day. Anyway, I was absolutely fascinated with what the paramedics were doing and I wanted to stand there and watch. My mom refused to let me and dragged me up the hill to our house with me screaming, "But I want to watch him die!" over and over again. Needless to say, my mom was mortified, but that very moment began my obsession/interest with medicine.
Fast forward to the sixth grade. It was my teacher, Sister Patricia (aka Sr. Pat – a rebel because she didn't wear a habit),  who showed me the underside of a fern leaf and explained that the little brown dots were called spores. Sr. Pat then went on teach me (and the class) about the life cycle of ferns, and when she touched upon meiosis and mitosis, I was hooked…and that sparked my love for all things related to biology.
I am dyslexic, so reading was never easy for me. However, in junior high, something clicked and I began to enjoy books. Where the Red Fern Grows will always stick with me, but I suspect that's probably because the weekend I finished the book, I found my 4-year-old hamster, Bandit, dead – as in rigor mortis had set in dead. It was a traumatic weekend for sure, but I'd finally realized that reading 1) came easy to me, and 2) it had the power to affect me in ways I'd never imagine.
In high school, I had the best damn English teacher in the world for both my junior and senior years – William "Madman" Madigan. It was because of him that I began to look into what drove the author, playwright, or poet to write the works they did. I loved reading and then writing about the pieces, and was forever touched by the works of Ernest Hemmingway (The Sun Also Rises), F. Scott Fitzgerald (The Great Gatsby), William Shakespeare (Macbeth), and Geoffrey Chaucer (The Canterbury Tails). We even had to memorize the Prologue of The Canterbury Tails and recite it in Middle English, no less: "Whan that aprill with his shoures soote/ The droghte of march hath perced to the roote…" Good times, Mr. Madigan, good times indeed!
I went onto college, opting to stay here in San Diego. I mean why not? Remember the weather? Oh and there was this boy, too. I already knew I was going to major in biology and had fully intended to go on to medical school. However, college was hard. Like really, really hard for me. At that same time, I had undergone surgery for what I believed was endometriosis. Turned out, I was right. I had it pretty severely and was told that I shouldn't put off having children if I wanted them. Chances were, I'd be facing a really tough challenge if I waited until, say my 30s (like after medical school, residency, etc.).
I eventually decided that maybe medical school wasn't in the cards for me. However, that left me with lots of open class time. What was a girl to do? Why, declare a minor in English Literature, that's what. My last few years of college were upper division Science and English courses only. Woo hoo, was I a dork, or what? I graduated from college,  got a biotech job, convince said boyfriend that it was time to put a ring on it, had my first baby, and then promptly quit my job when my baby turned one. Yeah, it turned out I wanted to be a mom more than anything else. Life was good for a bit, but we had a cancer scare with our daughter right after she'd turned six. She was lucky in that a second opinion determined her tumor to actually be benign, but it was a scary time, nonetheless.
A year later, I discovered that by some weird twist of fate, I was indeed pregnant again – at the age of 34! Five weeks into the pregnancy, my mom looked at me and said, "You're having twins." I promptly told her she "was freaking nuts." Four weeks later, after suffering through a really long ultrasound appointment, the technician turned the screen to me and said, "Here's Baby A, and here's Baby B. Congrats, you're having twins!" SO not funny. I drove to my mom's work, slapped the ultrasound photos down on her desk, and said, "Would you please stop doing this to me?" She just laughed and laughed, and then laughed some more. 30 weeks later, I delivered fraternal twin girls. Yup, I got the three kids I had always wanted in just two pregnancies.
In February of 2011, my mom got sick with pneumonia. It was the first time in decades that she'd been sick. That escalated to what we all thought was an unrelated attack of pancreatitis in April, and she wound up in the hospital at the end of that month. It went downhill from there.  She got out of the hospital, went back in, and 21 days later, on June 2nd, we stood in the ICU and watched her take her last breath. It wasn't until we got the results of her autopsy a few days later that we learn she'd had lymphoma. There was never any direct indication of cancer (only pieces of the puzzle that made no sense), so at the age of 75, after 57 years of marriage (and 39 years of being my mom) she was gone.
As I stated in my first book, she had always told me to face my fears and write. She loved to write – usually poems or short stories – but she also loved to read. She always had a book in her hand and was a voracious reader. You know, the book a day kind of reader? That was her, and she shared her passion with me. I also got my love of tea from her, my disdain for housework, and that one squinty eye when I smile. It took me a few years, but I finally listened to her, pushed my fears aside, and decided to become a writer.  My husband thought I was crazy, my kids wanted to know when mommy would return to normal, and the elderly father I inherited only wanted to know what we were having for dinner. I have no idea how long this job will last – with any luck I hope a long, long time. If not, I can, at least, say that I gave it my best shot.
I can be contacted by e-mail at using the form below and can also be found on Facebook under R.J. Van Cleave, and all over social media (click the three bars in the upper right corner to go to my social media icons/links). I'd love to hear from you and what you have to say, so don't be shy!